This was the first time I thought "Ahh, how tiny and cute you are!" to samurai. I bet you'll feel the same when you enter the solo-exhibition of Tetsuya Noguchi "Love from Medieval" at POLA MUSEUM ANNEX in Ginza.
Tetsuya Noguchi is the artist creating intricate samurai figures and paintings. Your eyes will be captivated by how delicate and accurate his samurai armors are made in a miniature technique. But not only that, your heart will be warm with those samurais expressions and airs. Just look at the samurai's face. He resembles someone we know, someone we might had passed by in the street. He seems to be a little bit tired, idling his time away, and a touch of pathos around him... Mr.Noguchi's samurais are not the wild warriors that most people would imagine when they think of "samurai". They are more humane and ordinary ones just like us, living their everyday-life. I said you'll be fascinated by their cuteness at first, then after a while you'll see some familiarity into them. The solitude sometimes people will feel in the middle of the day. That's why Mr.Noguchi's works are attracting.
Also, the touch of humor interwoven with pathos is just so superb. I couldn't stop grinning when admiring the series of his Western art parody paintings. Imitating Rembrandt, Vermeer, Giotto... all in samurai style.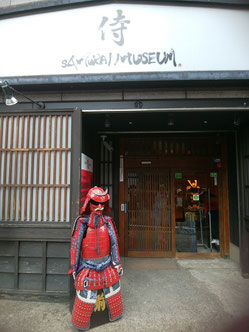 I recommend people visited the Samurai Museum in Shinjuku, which is my another favorite museum, to come over here as well. You can enjoy the mighty & cool samurai you have imagined at the Samurai Museum. Then step deeper into the thought of fundamental human nature where samurai act as the mediator here in POLA MUSEUM ANNEX.
The exhibition is until 2nd September 2018. Deadly sweltering heat is attacking Japan this summer, so why don't you stop by at this admission free gallery and cool off. It's going to be a delight and fruitful moment in between your shopping at Ginza.
---
Tips to visit POLA MUSEUM ANNEX:
-Their website(LINK to the museum) and explanations at the gallery is all in Japanese. If you want the most out of this gallery, hire a guide like me so the guide will explain about the artworks for you! I can take you here within my Tokyo Private Tour.
-POLA is a cosmetic company of Japan highly regarded in Asia. It's products are not sold at common cosmetic stores. Only at their own shops and some of the department stores. If you want to purchase their product, the Ginza shop located in the 1st floor of POLA building is convenient after enjoying the gallery on the 3rd floor of same building. I can take you here in my Ginza walking tour.
Written by Haruka Soga, 23rd July 2018