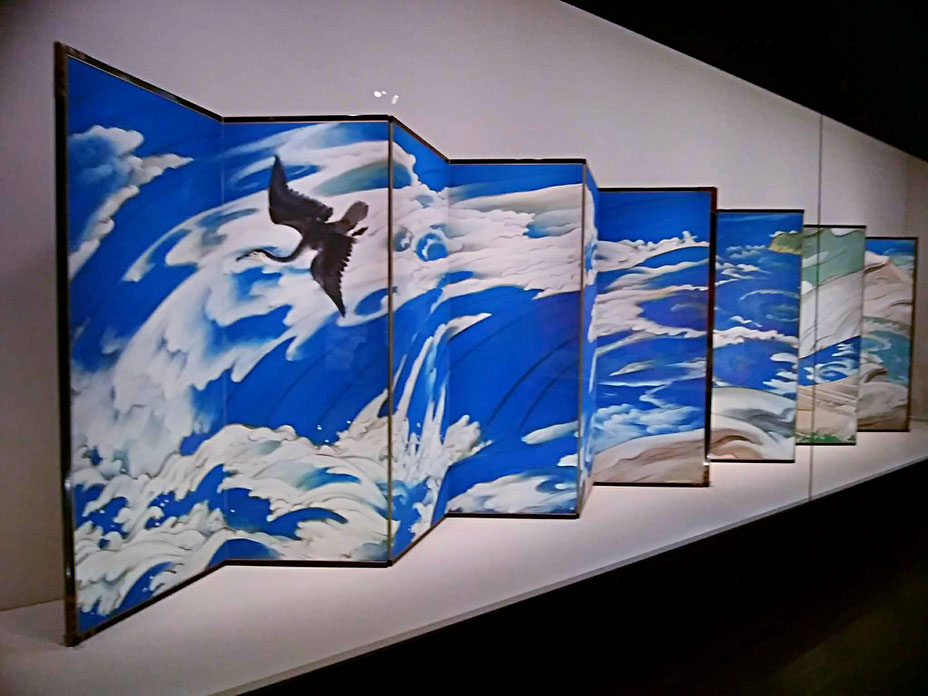 I felt like I've dived into the raged sea with maelstrom when I stood in front of this traditional folded screen painting.
This is one of the highlights of the exhibition "Depicting Water" at Yamatane Museum of Japanese Art in Yebisu, neighborhood area of Shibuya. It shows us from Hiroshige's wood-block printings 200 years ago to contemporary works of Hiroshi Senju. All works have subject of water scenery such as rain, river, waterfall and waves by famous Japanese painters. 
 I highly recommend this exhibition, especially to people who experienced the Team Lab's art works in Tokyo. Team Lab shows many work depicting waterfall and waves, and also they sometimes take a style like a folding screen as their expression.
---
Installations of "EPSON Team Lab Borderless" in Odaiba.
---
What's unique about Japanese painting is, in my opinion, the effect to make you immerse into the art work. It's done by delicately changing the perspective as the viewer's gaze moves when appreciating the picture. Especially talking about folding screens, they can be 3D by the angle of binding, which will make you feel more into the painting's world. Usually, this won't happen in Western style paintings. The perspective is fixed and the subject is depicted from only one point of view.  "The Naruto Maelstrom"(1929) by Ryushi Kawabata, the first pic on this post, has the power as if the wave is up to drag you into the sea with the depth made by folds.
This "sense of immerse" is what team Lab is emphasizing in their art work, too. Making the border vague between the art and viewer is what they are aiming for. If you come to the Yamatane Museum after the Team Lab's exhibit, you can understand what Japanese artists are trying to express from the ancient times. "Depicting Water" exhibition is held untill 6th September 2018. (LINK to Yamatane Museum)
---
Cafe Tsubaki at Yamatane Museum
---
Some tips to visit Yamatame Museum:
-It's dead hot outside Tokyo right now(July 2018), but museums have really cool air conditioner to preserve their art works. It's so nice when you just entered the building, but you will feel chilly after a while. Bring something to pull on.
-After admiring beautiful paintings, take a green tea break at museum cafe. They offer you special Japanese sweets inspired by the artworks on the show. 
-Most of the explanation boards are only written in Japanese. Few highlights have English comments. If you want to get the most out of this exhibition, hire a guide like me and let the guide explain deeply about these beautiful paintings! I can take you here within my Tokyo Private Tour.
Written by Haruka Soga, 20th July 2018