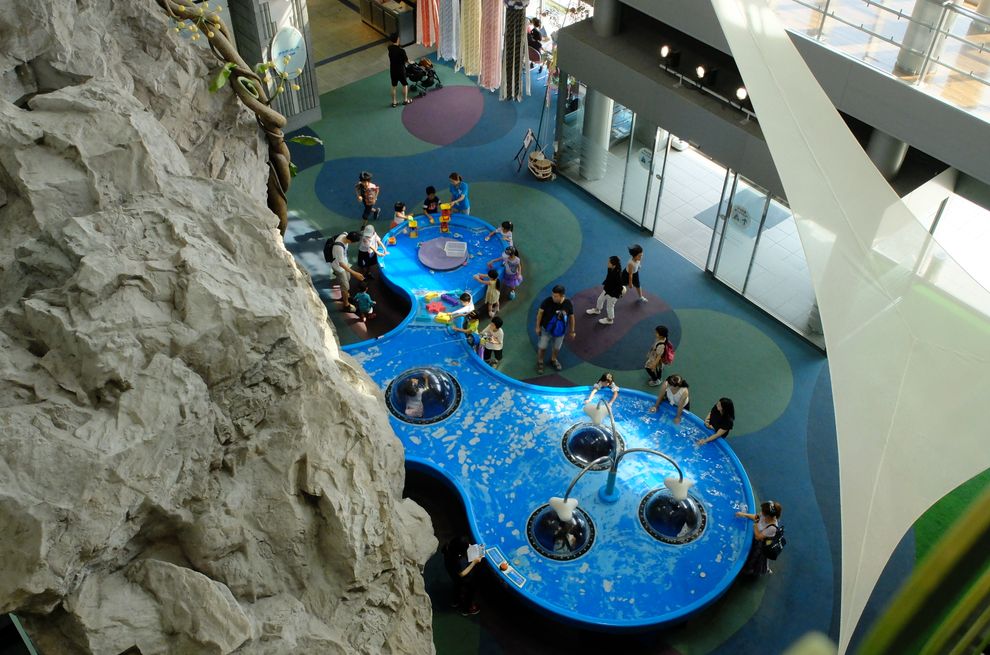 I'm posting this for parents who is stumped with the heat of this summer's Tokyo, yet puzzled where to go with energetic kids despite the climate. There are many inside-play areas in Ariake, just next to Odaiba, and most of them are admission free! Top of the list in summer season is definitely the Tokyo Water Science Museum. It's cool inside the building, it's safe for children, and it's fun for both children and adults! (LINK to the Tokyo Water Science Museum's English brochure)
As you enter, just in front of you, there's a big water playing area with toys and gimmicks which will just thrill the kids! It's not a swimming pool, but as long as you care about other visitors, modestly splashing the water by hands and toys are welcomed here! Just come with a clothing which you don't mind getting wet. My boys love this place and they are always having fun here.
Other floors are very well made as well. The 3rd floor has a theater screening the story of water, from it's origin at the forest to the ending coming out from the tap. Here, you are surrounded by screen 180 degrees, and there's a sofa to lie on. You can enjoy the short movie as if you are the drop of water travelling through the river. My son was amazed with this beautiful picture. The movie has no narratives so everyone can understand even you don't understand Japanese. You need to receive the ticket at the first floor's information desk before.
Then you can enjoy the forest area where many animal and insect figures are hiding around.
Other exhibits like underground tour and quiz corners for kids are all in Japanese, but water play-area and the theater are the highlights of this museum, so no worries. Why don't you stop by and have fun with your kids here and make a joyful summer day!
---
Tips to visit the Water Science Museum
-The facility has "museum" in it's name, but it's actually a place to tell the citizens(especially kids) what the Tokyo Metropolitan Government's Bureau of Waterworks are doing.
-Bring your children's changes because they will be WET!
-If you are want to learn about water supply history of Tokyo back from the samurai government ages, go to the Tokyo Waterworks Historical Museum in Ochanomizu, which is another good museum I like, instead of this one. It's more for the grown-ups. (LINK to the Tokyo Waterworks Historical Museum's English brochure.)
---
A Little More Info about Ariake
YEAH! It's less than 2 years to go for Tokyo 2020 Olympics!! Game schedules are announced and tickets are planned to be on sale from 2019 Spring for residents in Japan.
Many of the venues are newly constructed at Ariake. There will be games of volleyball(Ariake Arena), BMX(Ariake BMX Course), tennis(Ariake Tennis Park) and gymnastics(Olympics Gymnastics Center) held in this area. If you come here now(summer of 2018), you can see the on going construction site of the arena and gymnastics center which is quite exciting for both sports and archi lovers!!
Written by Haruka Soga
2nd August 2018